Ellen DeGeneres and Portia de Rossi are arguing about whether to have a baby.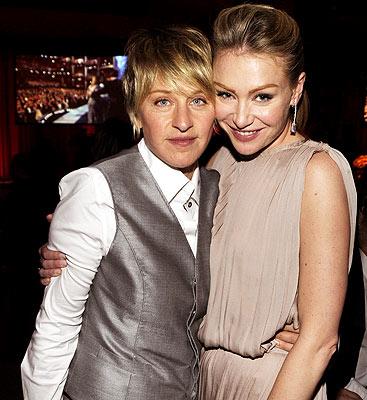 The couple, who recently tied a knot in an intimate ceremony last month, are believed to be fighting about the prospect of starting a family.
The great talk show host Ellen is reportedly determined to become a mom but Portia is less keen because she would be the one carrying the child.
A source revealed: "Ellen wants Portia to get pregnant, an idea they had both ruled out before the wedding. Portia feels the baby issue has been decided and she is very upset."
The source explained: "But Ellen has gotten all goofy over the baby issue. She has been in tears trying to get Portia to reconsider. Now the situation is very tense."
Ellen, 50, reportedly agreed to not having a child with the intention of changing 35-year-old Portia's mind following the wedding.
The source added: "Ellen always said, 'First marriage, then kids.' She said no to a baby before because she wasn't settled. But Ellen was sure everything would fall naturally into place after she gave Portia her dream wedding. Now Ellen has got the baby itch again – in a bad way. But Portia won't budge. So Ellen is sobbing to friends she feels like the air has been let out of her sails. Ellen should be on top of the world, but instead she is heartbroken."