Eminem says last weekend's MTV Movie Awards stunt was Sacha Baron Cohen's idea.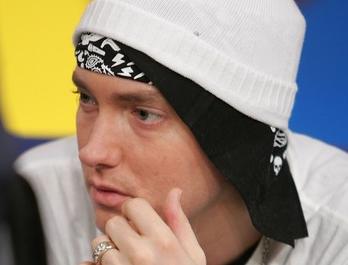 "Sacha called me when we were in Europe and he had an idea to do something outrageous at the movie awards," he tells RapRadar.com. "I'm a big fan of his work so I agreed to get involved with the gag."
During Sunday night's show, the rapper ended up with Cohen — dressed up as his flamboyant character, Bruno — landing face-down in his lap. After the showdown, viewers questioned whether it was staged. (A show writer admitted it was on Tuesday.)
"I'm thrilled we pulled this off better than we rehearsed it," Eminem says. "It had so many people going 'nuts' so to speak. Everyone was blowing me up about it.
"After the ceremony I went back to my hotel and laughed uncontrollably for about three hours," he goes on. "Especially after I saw it on air."
Eminem also denied reports that a thief broke into his hotel room during the Sunday awards ceremony and swiped $60,000 and a laptop.
"The only thing was that I lost a Nike watch that we were looking for,
he says. "The rest it is made up — like half the other stuff out there."
Comments
comments