When the stars of Harry Potter begin filming this month expect some awkward on set tension between Rupert Grint and Emma Watson.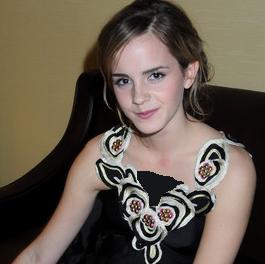 Both stars are already panicking about their first screen kiss between their characters Ron Weasley and Hermione Granger in Harry Potter and the Deathly Hallows.
Speaking at the Bafta ceremony Watson, 18, revealed that she is terrified of pairing up with her 20 year-old co-star of eight years, despite the best efforts of Daniel Radcliffe, 19, to reassure her.
She said: "Well I've never had to do it before so I can't say I have any techniques. I've never had to kiss anyone on screen so it is all new to me. Of course I am nervous about it. But, apparently it gets quite boring after a couple of takes, that's what Dan said to me anyway."
She looked stylish and adorable in a black Temperley London gown at the BAFTAs at Soho House Grey Goose After Party at the Grosvenor House Hotel on Sunday, February 8.
Her floor length gown had a sequined floral appliqué and a deep V neckline with a cutout back.
She accessorized with a black cocktail ring on her left hand index finger. Her hair was styled in a loose up do with a side parting and she wore dark eyeliner and glittering bronze eye shadow with a bright pink lip color.
Happy to be part of Baftas, Emma continued: "I love the Baftas. It's amazing. It's like a celebration of what I do so it's incredible. It's been fun getting ready, I've had my hair and make-up done and I got my dress."
She added: "The Baftas are very important. For us here, we don't often have the support we need to get small British films off the ground so anything that promotes us, I think it's wonderful."
Comments
comments