Emma Watson was dressed down in a tight-fitting teal top and skinny grey jeans as she, Daniel Radcliffe who plays Harry, and Rupert Grint, who plays Ron Weasley rehearsed scenes for Harry Potter and The Deathly Hallows parts one and two.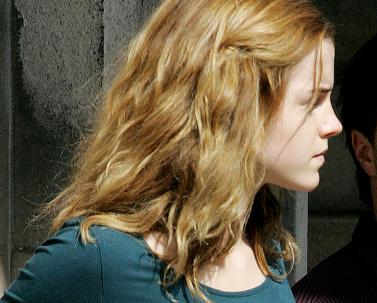 But the young actress still looked stunning in her relatively plain outfit.
This month Emma, who is the face of Burberry, looked every inch the young movie star in a shoot for Teen Vogue.
She wore sky high heels and in one shot was even pictured walking two Shetland ponies.
But on the London set of the next Potter installment the glamour was gone as she rolled up her sleeves and got on with the job of playing Hermione.
Emma has revealed that she does not have a 'burning passion' for acting and that she may give up her film career once she finishes the Potter films.
The star has been struggling with the pressure of promoting one film – Harry Potter and the Half-Blood Prince, which is released next month – and filming the seventh and eighth Potter films back to back.
She told Teen Vogue: 'I don't think I've ever been this tired in my life.
I literally wear my pyjama bottoms to set. I roll out of bed and put on a hoodie and some Ugg boots.'
One secret she refused to divulge is which university she will attend from this autumn. Both Cambridge University and Yale in the U.S. are believed to be in the running for her English literature and art degree.
The actress' growing credentials as a style icon were further enhanced earlier this month when she was unveiled as the new face of Burberry.
She was snapped by highly acclaimed photographer Mario Testino wearing trench coats from the company's autumn/winter collection.
Despite persistent rumors linking her to Chanel, and her ubiquitous presence at international fashion shows, Burberry is the first major advertising campaign that the 19-year-oldr has landed.
Burberry's creative director Christopher Bailey said at the time: 'Having known and admired the lovely Emma Watson for quite some time, she was the obvious choice for this campaign.
"Emma has a classic beauty, a great character and a modern edge. Her charm, intellect and brilliant sense of fun made the whole shoot feel like a picnic on the Thames."
He added: "I felt Emma would be strong enough to hold the campaign as the only girl, and I loved the idea of her being surrounded by these young, cool British guys."
Comments
comments