The "Idols" are about to return to the stage.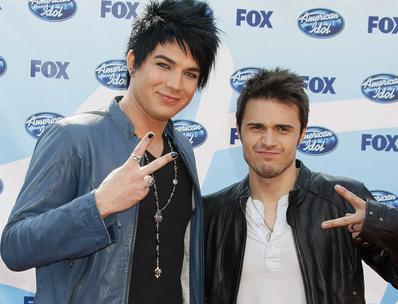 The "American Idols Live Tour" is set to kick off on July 5 in Portland, Ore., bringing Season 8's top 10 on a 50-city tour – and "Idol" winner Kris Allen said he's loving the ride.
"It's nonstop but I'd rather be doing this than anything else," Kris told People. "Four months ago, I could have never imagined ever doing anything like this… It feels great!"
Of his forthcoming album, he said it won't be what people expect.
"I actually do think people are going to be surprised, but in a good way, hopefully," Kris said.
And Adam Lambert, Kris' runner-up, is also looking ahead to his fall album.
"It's going to come out in November," he said. "I'm working with RedOne – he's an incredible producer who did Lady GaGa's hit material."
Adam noted he's also working with Linda Perry, Greg Wells, Ryan Tedder, Sam Sparrow – and even "Idol" judge Kara DioGuardi.
"I wrote a song with Kara," he said. "It's awesome."
And like Kris, he said his new music will be a curveball for fans.
"On 'Idol'…I went the route of doing a lot of classic rock. So, I'm going to try to take the best musically from that era and make it mix with modern pop electronic production. It should be really different."
Adam has garnered a lot of attention since coming out on the cover of Rolling Stone, but he said most of the attention has been good.
"I've felt… mostly positive support, so I think that's great," he said. "What really matters which is that I'm an entertainer and a singer and that's what it really needs to be about."