There are stills from a s*x tape allegedly starring Gossip Girl actress Leighton Mester have surfaced.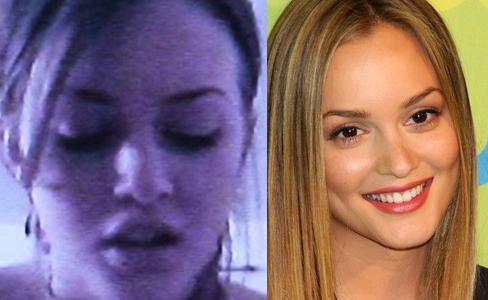 The blue home movie has sparked a bidding war between online porn sites looking to cash in on what's said to be the latest X-rated celeb scandal.
Kevin Blatt, the broker who struck gold with Paris Hilton and Mini Me star Verne Troyer's s*x tapes – claims the saucy footage features a younger Leighton, now 23, performing a striptease for her boyfriend.
She allegedly follows up her kinky skin show with a number of er*tic acts for the camera.
Blatt said: "It's very playful actually. It's not shot in high definition and looks like it has been shot using a video camera while they are both fooling around."
There's even a peep show where the boyfriend exposed a boob in front of the camera.
Meanwhile, "Gossip Girl" star Leighton Meester recently admitted that she managed to miss her graduation ceremony.
"I didn't go to my high school graduation," she said, explaining: "I graduated a year early out of a small private school that was different then my school. I went to Beverly Hills High School. But I'm OK that I missed it — that week I was in Hawaii, working."
Comments
comments