Harry Potter actress Emma Watson, who previously attended the premiere of her animated film, has revealed she is ready to strip [email protected] on the big screen, saying: "It's part of my job".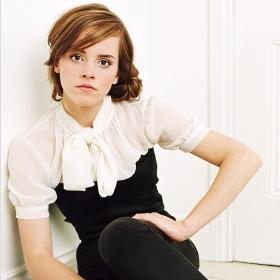 The 18-year-old actress, who has recently replaced Keira Knightley as the face of Chanel perfume Coco Mademoiselle, said she did not understand the worldwide interest in her life.
She declared: "The truth is, I'm not very cool."
The actress also revealed that she would be picky about her next film but said she would love to work with arty Italian film director Bernardo Bertolucci, who made Besieged, starring Thandie Newton.
When asked if she would strip for a role, she answered: "Yes. For Bernardo Bertolucci. It depends. I'm not getting my kit off any time soon, but it is part of my job."
However, Emma Watson said she was not in any rush to get in front of the camera again, and could even turn her back on Hollywood to study English after getting three A-grades in her A-levels.
She continued: "I have enough to hold me together without fame. I have a really supportive family and a full life away from Harry Potter. It's unlikely that I'll be part of anything this big ever again, so I need to deal with that. I'm not going to take a job just because, s***, I'm not doing anything else."
She also shared: "I'm going to have a battle on my hands, because after Harry Potter has finished, I don't know. I definitely want to go to university. I'm at a strange age. I'm not a woman yet, but I'm not a girl any more. [Film companies] say, 'Oh, in a couple of years you'll be perfect for this.' I'll be like, yeah, but I want to be studying English then, so it's going to be quite tough to choose between the two."
The actress said she felt under pressure to date Potter co-stars Daniel Radcliffe or Rupert Grint, adding: "The public are desperate for it. It would literally be like [a royal marriage]. Luckily, luckily . . . It would be such a nightmare."
But the teenager said she already has a boyfriend and when asked if she was in love, she blushed and said: "I don't know."
Comments
comments