The "Harry Potter" star Emma Watson looked magical in a new photo shoot for Vogue magazine.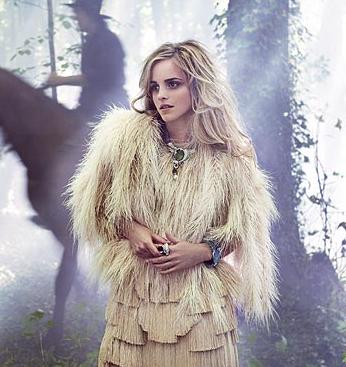 The 18-year-old actress has posed for a glamorous shot as a reminiscent of fashion icon Grace Kelly, which appeared to be far from her image in the successful wizard franchise.
Her photographer in the glamorous photo shoot is a famous photographer Mark Seliger, who is known for his images of the Rolling Stones and Kurt Cobain.
Emma Watson revealed: "Mark encouraged me to become a different person or character for each photograph and so they all tell different stories So, in the end, I combined two loves: art and fashion and acting."
The teen actress added: "I learned a lot and have found a whole new respect for the hard work models put into their work and for the couture. A love affair has begun."
Emma Watson, who first shot to fame in the "Harry Potter And The Philospher's Stone" when she was 11 has now signed to modeling agency Storm, home of Kate Moss, Carla Bruni and Lily Cole. Perhaps her "Grace Kelly" look might give her more opportunity as a cover star.
Comments
comments