"Harry Potter" star Emma Watson wants to date Orlando Bloom.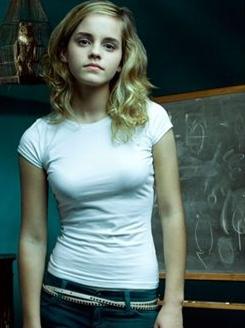 The 17-year-old actress, who plays schoolgirl Hermione Granger in the hit movie franchise about a teen wizard, was recently linked to Razorlight frontman Johnny Borrell but would rather romance the 'Lord of the Rings' star.
She revealed, "At last week's London Fashion I met Johnny Borrell (who is modelling for Burberry at the moment) and we went on to a party hosted by designers PPQ in the same cab. I'd never met him before so that was great as I'm a big Razorlight fan."
She added, "But goodness, I am really going to have to watch who I stand next to from now on! Maybe I should stand next to Orlando Bloom and then we can be said to be 'dating'!"
Emma and Johnny, 27, were seen laughing and joking at London's National Portrait Gallery last Monday February 11 before partying at nearby nightclub Dolce.
Johnny, who split from "Spider-Man" actress girlfriend Kirsten Dunst last year after a five-month romance and Emma Watson later left the party in separate cabs.