Vanessa Hudgens, who returned to Los Angeles on Wednesday, February 13, in time for Valentine's day, visited a girlfriend in North Hollywood, dressed – well as any other stylish 19 year old hanging out with a friend.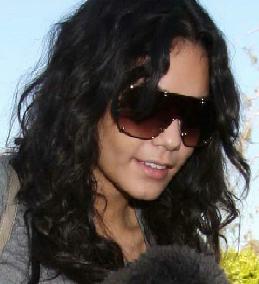 The popular "High School Musical" star wore faded blue low rise skinny jeans with a metal studded belt, a black bubble hem top under a blue jacket and black basket-weave ballet flats.
She matched her casual outfit with three long necklaces, multiple bead bracelets on her wrists and light brown aviator glasses.
Slung over her shoulder was her favorite patent leather black bag with golden metal shells dotting its exterior.
Vanessa Hudgens, who is currently filming for the Todd Graff directed film "Will" in Austin, TX, has become comfortable with her celebrity status and remains unfazed by the presence of paparazzi.
Comments
comments