Beyoncé Knowles has come under attack from her mentor, veteran R&B singer Etta James, for singing "her song" at Barack Obama's inauguration.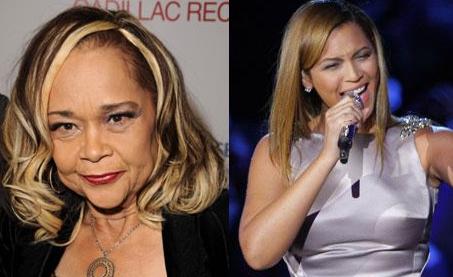 Etta James, who had a hit with the song "At Last" in 1961, hit out at the 27-year-old singer for her rendition of the track in Washington DC last month.
During a live show, the 71-year-old singer told the audience that she "can't stand Beyoncé" and threatened that she would "get her ass whipped".
Etta James also mocked President Obama, claiming he has "big ears" and said "he ain't my president".
The outburst is likely to shock Beyoncé, who plays Etta James in a forthcoming film called Cadillac Records.
During a show at Seattle's Paramount Theatre, James told the crowd: "You guys know your president right? You know, the one with the big ears. Yeah, wait a minute, he ain't my president, he might be yours."
She continued: "I tell you that woman he had singing for him, singing my song, she gonna get her ass whipped. The great Beyonce. Now like I said, she ain't mine. I can't stand Beyonce!
She added: "She had no business up there singing. Singing on a big ole, big ole president day and going be singing my song that I've been singing forever."
Both women attended the American premiere of 'Cadillac Records in December with no sign of animosity and Beyonce has previously spoken of James' praise for her performance.
"At Last" was composed in 1941 by Mack Gordon and Harry Warren for the musical film Orchestra Wives and is the song which James is most famous for singing.
UPDATE: Etta James admits to have fooled around when slamming Beyonce Knowles over the 27-year-old's "At Last" performance during Barack Obama's inauguration ball. On emphasizing the matter, she says that she is "a comedian besides a singer."
Etta added: "She's up here singing my song, now what am I gonna do? I'm a comedian besides a singer. I wasn't doing it to be hateful… I think I'm funny and she's not the only one I'll say something about." She then adds, "She got up there and sang it and didn't give me a chance to sing 'At Last'."
Comments
comments