Eva Longoria Parker was spotted as she attended the Emmy red carpet in style on Sunday and looking sparkling and petite in her Marchesa gown.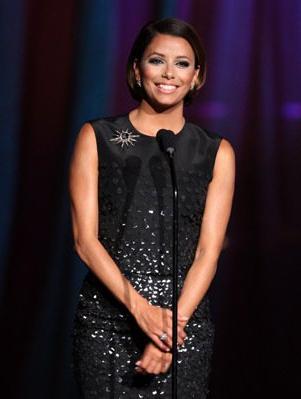 The "Desperate Housewives" star, who has sparked pregnancy rumors with her weight gain, laughed off recent media interest in her weight. She revealed: "I gained five pounds and it's like a national scandal."
Eva Longoria's weight has been the subject of media attention and pregnancy speculation since she frolicked on a yacht for her anniversary to Tony Parker this past summer, with her bikini-body revealing a less than flat tummy.
With her character on "Desperate Housewives," Gabrielle Solis, now a mom on the series, Eva has been wearing less form fitting outfits for the role. And, as a result, the pregnancy rumors haven't failed to die down.
In an attempt to quell them, Eva's co-star, Felicity Huffman joked last week to People, Eva's not pregnant, "she's just fat," a comment Felicity now regrets.
Felicity Huffman told Billy at the recent Emmy Awards: "Oh my god! I get in such trouble for that line!"
But one person Felicity Huffman didn't get in hot water with Eva Longoria herself.
Felicity added: "I came to the reading the other day and she walked in the door and I went, 'Are you mad at me? Are you mad at me?' She's like, 'No, it's funny.' It's hyperbole. Eva fat! I mean she's this big, right?"
Comments
comments