Eva Longoria looked hot especially if she is wearing a bikini.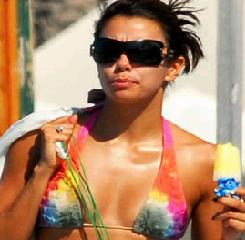 The "Desperate Housewives" star was seen wearing a bikini in Alicante, Spain. It seems that she is having a hard time with filling out her tiny bikini.
The actress, who married French-born basketball star Tony Parker last month, previously admitted she wants trilingual kids. She can't wait to start a family and wants her kids to speak fluent English, Spanish and French.
You can see her bikini picture here
Comments
comments