Kim Kardashian, who was involved in the controversy of her infamous sex tape, has sparked rubbish reports that the tape shows footage of her allegedly urinating on her former boyfriend Ray J.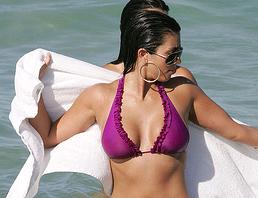 The socialite was successful on stopping the release of the videotape after trailers hit the Internet last year, but she wasn't able to stop the gossip surrounding the tape.
Reports claim that the socialite and Ray J performed a number of crazy acts on film, but the Armenian brunette insists the footage features nothing but standard carnal knowledge.
She revealed, "People were saying derogatory things (like) someone was getting urinated on. That hasn't happened in my entire lifetime. I'm not knocking anyone else, but I've never personally participated in that. I think it's degrading."
Comments
comments