Newlyweds Eva Longoria and Tony Parker didn't leave their room during their honeymoon.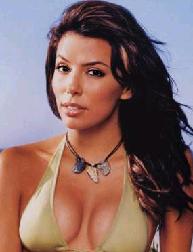 The "Desperate Housewives" star, which recently married the basketball player, has revealed their post-wedding celebrations in the Caribbean islands of the Turks and Caicos were very "romantic".
The actress revealed, "It was so romantic, it was just the two of us. We were completely alone together. We didn't see people for days with the exception of room service bringing us food. It was great to be completely, 100 per cent alone."
Newly married Eva Longoria can't bear to be parted from her husband, so the San Antonio Spurs star has been accompanying her to the 'Desperate Housewives' set since she returned to work this week.
The 32-year-old actress also revealed, "Tony's been great. He's been coming to the set with me since we returned to Los Angeles – just like during the season when I was going to the Spurs games. With his season over, he's hanging out on the set with me. It's a lot of fun."
Her husband is still learning to cope with being married to a famous actress and admits he has no interest in being in the media spotlight.
Comments
comments