Geri Halliwell, which is known for her curvaceous figure, slimmed down in recent years.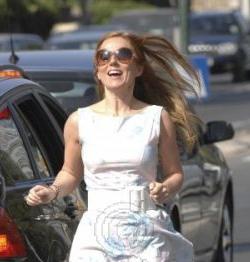 However it was perhaps only a matter of time before Geri Halliwell's ample cleavage made a re-appearance thanks to a wardrobe malfunction reminiscent of Judy Finnigan's unintentional flash at an award show in 2000, which you could see here.
The "Wannabe" singer was leaving London's exclusive Waverley Inn restaurant last week when a strap of her dress slipped down to reveal a lacy black bra. She seemed unaware of her wardrobe malfunction as she beamed at awaiting photographers.
At least it wasn't in front of millions of viewers as in Judy Finnigan's case, when her blouse popped open at The National TV Awards, exposing her bra to the nation.
Blissfully unaware, she carried on talking while her image was beamed around Britain until a fellow presenter ran forward to cover her up.