Despite a report claiming otherwise, Gisele Bundchen and NFL player Tom Brady are not engaged, at least according to his father Tom Brady Sr.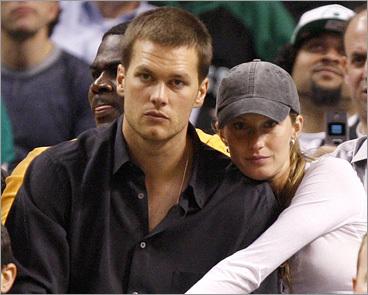 Tom Brady Sr. was quoted saying: "We don't know a thing about it. Nobody told me. We talked to him and there's nothing to say. It's rumor, rumor, rumor. It must be a slow news day."
New England Patriots spokesman Stacey James said: "I heard the reports of the rumor, but I don't know if they are true. Tom likes to keep his private life private and I respect that."
On Friday, TMZ reported that the New England Patriots Quarterback, 31, proposed to the Brazilian-born model, 28, on a private jet that took off from Teterboro Airport in New Jersey and landed in Boston on Christmas Eve.
According to a report, on board were four dozen white roses, champagne and Bundchen's parents.
A source revealed: "People close to him are saying it's just another rumor. Tom is in Foxboro with his team today and no one is congratulating him or anything."
The source added that the airplane proposal sounded "cheesy" and not Brady's style.
Bunchen's twin sister, Patricia, denied the engagement in an email to the Boston Herald, saying simply, "not true."
Brady and Bundchen's reps could not be reached for comment on Friday.
Meanwhile, one thing is certain: Giselle Bundchen is crazy about her beau.
The supermodel revealed: "He really, genuinely doesn't have a bad bone in his body. And he is a very positive person."
She continued: "I think we have a lot of things in common, and I think he is a really great person."
Comments
comments