Tom Cruise and his wife Katie Holmes are living in fear after receiving death threats.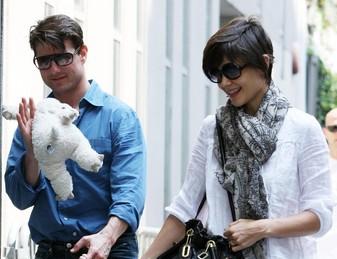 Sources close to the star, a leading Scientologist, revealed that the threats are believed to have come from groups opposed to the religious organization.
Security has been stepped up around Cruise, 46, Holmes, 30, and their two-year-old daughter Suri.
The celebrity couple now live at separate locations and move around in bomb-proof vehicles.
Other protesters have been angered by Cruise's portrayal of Colonel Claus von Stauffenberg, who was at the center of the 1944 plot by Nazi officers to assassinate Adolf Hitler, in the film Valkyrie.
Last week Cruise attended the Los Angeles premiere of the movie, which was targeted by protesters from the anti-Scientology group Anonymous. He has been forced to increase security around his family since then.
A source revealed: "The threats are perceived to be so great that the FBI has been alerted."
Cruise is due to fly to London for the UK premiere on January 21 as the source continued: "Tom is terrified. He doesn't feel safe anywhere."
Cruise has spent £5million on an underground bunker in the grounds of his estate in Colorado. In August, threats were made to place anthrax in the air vents of his Los Angeles office.
Comments
comments