Guy Ritchie wants daily contact with his children to stop them becoming "oddballs" like their mother Madonna.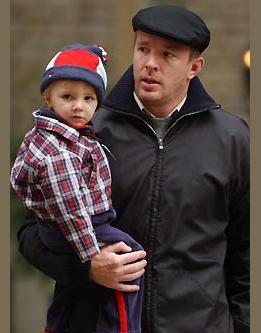 The British film director doesn't want his eight-year-old son Rocco to inherit his wife Madonna's quirks, and has been secretly treating him to 'normal' meals rather than the strict dietary regime Madonna has reportedly imposed.
A friend of Guy dished the scoop: "He would see Rocco being fed this macrobiotic stuff and would take him out after for pie and chips to keep him normal.
The friend added: "He doesn't want to feed them solely on pies and chips. He just wants to show them not everything in life is about steamed fish and rice."
Guy Ritchie is also believed to make a concerted effort to appear 'normal' to the children he raises with Madonna, which also includes Lourdes, 12, and adopted David Banda, three.
Guy, 40, and US pop star Madonna, 50, announced they were to divorce after nearly eight years of marriage earlier this month. They have since embarked on a war of words against each other while their lawyers argue over the details of their divorce.
Comments
comments