Vanessa Hudgens looks so pleased with herself as she was seen spending time with High School Musical co-star Zac Efron.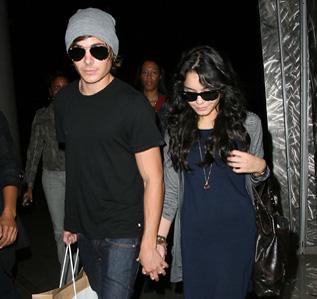 The "High School Musical" couple, who are in Hawaii for a wedding, took off for a romantic stroll along the beach.
At one point smitten Vanessa flung her arms around 21-year-old Zac's neck and kissed him passionately. She revealed last week: "It's hard not to have chemistry with someone who's attractive."
Zac is certainly an attractive proposition and not just because of that six-pack and his precariously perched pants.
He made £3million last year thanks to High School Musical and was mobbed by fans at the latest film's UK premiere.
In a revealing sit-down with Ellen DeGeneres on her talk show, Vanessa Hudgens spilled some secrets about her heartthrob beau, Zac Efron.
So what does Zac eat for breakfast? Vanessa Hudgens shared: "[He is] more of an eggs kind of guy. If he's feeling lazy he just drinks them. Not most of the time, but every now and then."
Her preference for Zac's hair: Vanessa replied: "I like it back."
When asked if the gel feel icky in her hands, Vanessa explained: "It's kind of solid."
If Zac's a good kisser, she added: "Yes, [he's] fine — we kiss in the movie," talking about High School Musical 3: Senior Year, which opens today. Guess Vanessa's learned not to kiss and tell!
Comments
comments