Guy Ritchie warmly hugs sons Rocco and David during an emotional reunion yesterday.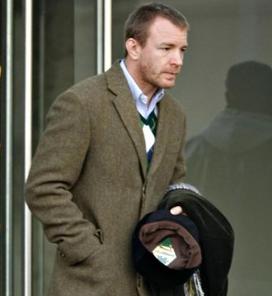 Rocco, eight, hurtled straight towards his dad as soon as he spotted him at Gatwick airport.
Perhaps he was looking forward to some pie and chips with Guy instead of the strict macrobiotic diets Madonna insists on.
Film director Guy also happily cradled David, three, in his arms.
It was revealed three weeks ago that the boys would be visiting Britain from the US without 12-year-old sister Lourdes.
However, Madonna has allegedly issued Guy with a list of strict rules for his weekend with the boys – but he's already broken one of them.
They are:
Guy can't introduce the kids to any "new friends".
He can't be photographed with them – which he has.
Fast food is completely out of the question as they must stick to a macrobiotic, vegetarian, organic diet and only drink Kabbalah water.
They are not allowed to read newspapers or magazines, nor watch TV or DVDs.
All the clothes they wear are to be 100 per cent natural materials.
Their toys must be spiritually and ethically sound.
When they are out in public their hands must be cleaned with disinfectant spray.
Guy must not discuss break-up.
Madonna must be able to speak to them three times a day.
Bedtime story for David must be from Madge's English Rose books.
Comments
comments