Gwyneth Paltrow and Kate Hudson are backing Barack Obama in the 2008 presidential race as they raise cash for Obama in London.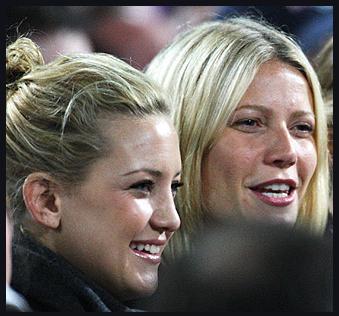 Senator Barack Obama has attracted many supporters in the Hollywood community. Gwyneth Paltrow and Kate Hudson, who are supporters of Democratic presidential candidate, were willing to put the squeeze on a bunch of Londoners who were willing to part with a bunch of cash at a $10,000 a plate dinner to help out the campaign.
According to a report, the two Hollywood actresses were joined by environmental activist and failed presidential candidate Al Gore and they headlined a fundraiser overseas for Barack Obama.
Other political news, Liberal groups are set to begin broadcasting commercials that will attack John McCain's health and age by "…showing vivid and unflattering images of the fresh scar that appeared on Senator McCain's face immediately after his last operation for melanoma skin cancer eight years ago…"
Another report suggested a $100,000 deal that Barack Obama brokered is now under investigation. According to the report, "A group headed by Kenny B. Smith was awarded a state grant by then-state Sen. Barack Obama to create a botanic garden in Englewood. Plans now call for the city to take back the garden site because the project never happened."
Meanwhile, Gwyneth Paltrow has launched a self-help website, through which she intends to pass on nuggets of wisdom to her fans.
The actress and wife of Chris Martin, the singer in Coldplay, has posted a preview page of GOOP.com, a personal website on which she advises visitors to "nourish the inner aspect".
The website is split into categories headed "Make", "Go", "Get", "Do", "Be" and "See", suggesting Miss Paltrow is planning to advise readers on their eating habits, travel, shopping, activities, lifestyle and sightseeing.
In a short mission statement announcing the launch of the site, Miss Paltrow writes that it will also play host to "some thoughts from one of my sages".
Comments
comments