It may have taken her several months longer than other new Hollywood mothers, but Halle Berry has regained her svelte figure five months after giving birth to daughter Nahla.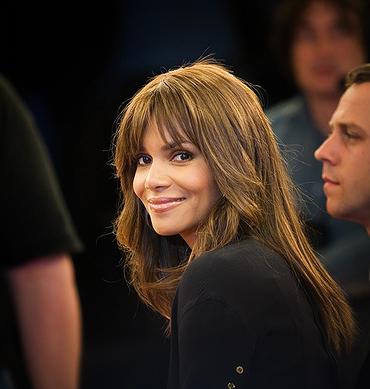 The Oscar-winning actress wisely refused to bow down to media pressure and shed her baby weight through crash dieting, over-exercising or surgery and instead lost the extra pounds the healthy way.
Stepping out for a shopping trip in Los Angeles on Friday with a family member, the 41-year-old's flat stomach was unwittingly exposed to the pursuing paparazzi when a gust of wind blew open her cotton vest top.
Dressed for the hot summer day, Halle looked relaxed in oatmeal trousers, light vest top and cowboy hat.
As Halle picked up a few items from Beverly Hills and the Westfield Mall in Century City, no doubt her model partner Gabriel Aubry was at home looking after the baby.
In May, Halle was pictured showing her post-baby rounded stomach, prompting a positive response from most new mothers, who often fail to achieve their pre-baby figure in the record time demonstrated by many celebrity mums.
Last week, Nicole Kidman was photographed looking remarkably slender just 10 days after giving birth to baby Sunday Rose.
Since giving birth to her first child in March, Halle and model Gabriel, have kept a relatively low profile, focusing their attentions on parenting.
Nahla, who was born in a Los Angeles hospital, means 'honey bee' in Arabic.
After taking time off for parenthood, Halle is set to resume her film career later this year.
She is set to reunite with her Monster's Ball (for which she won her 2002 Oscar) co-star Billy Bob Thornton in upcoming crime drama Tulia.
Speaking in May, Halle said she believed motherhood would transform her career.
She said: "I feel having a baby will open up a whole new world for me. I think I'll actually find better roles, because I've gotten past being the ingenue and sex symbol."
She added: "I'm definitely going to work less. I used to put so much pressure on myself to succeed that it often made me very unhappy in my personal life. I felt on the verge of burning out three or four years ago."
Earlier this month, Halle beat Jennifer Lopez and Jessica Alba to be crowned Hottest New Mama in a poll by Parade magazine.
Comments
comments