Attention all "Harry Potter" fans! Filming for the last of the Potter series, "The Deathly Hallows" is well underway.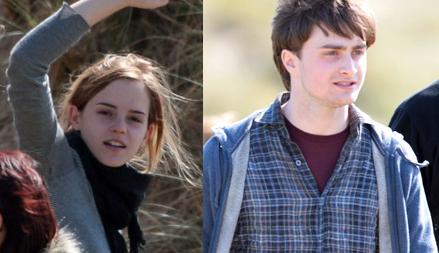 Your favorite stars including Daniel Radcliffe, Emma Watson and Helena Bonham were all hard at work on the Pembrokeshire Beach set in Wales earlier today (May 11).
Emma Watson waves to the paparazzi as she takes a break on the set of filming Harry Potter and The Deathly Hallows Part I.
Daniel Radcliffe, Rupert Grint (in the beard) and Helena Bonham Carter were also spotted around the set. The shell cottage is featured in chapter 25 of the final book by J.K. Rowling.
Harry Potter and The Deathly Hallows Part I is set to hit theaters in November 2010.
The mania that follows the cast and crew everywhere it goes is said to have caused disruption to the coastal area with roads being closed from now until Friday to allow filming to run smoothly.
The new Potter film will be split into two parts and is due for release in 2010 and 2011.
Comments
comments