Brad Pitt, who previously reported to be furious over Jennifer Aniston's comments about Angelina Jolie, has sparked rumors of having a plastic surgery secret after looking fresh-faced father of six kids.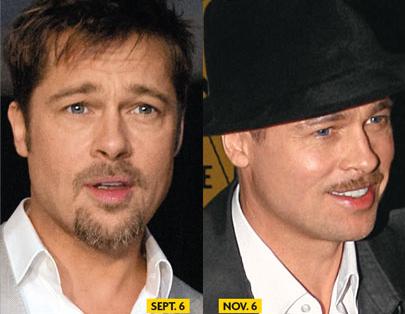 When the "Babel" actor stepped out in NYC on Nov. 6, he looked fresh-faced and years younger than he did just two months earlier! According to NYC-based plastic surgeon Jennifer Walden, M.D., he looks like he had both a facial-resurfacing procedure and fillers in his wrinkles.
Dr. Walden, who has not treated Brad, shared her observations, saying: "Before, Brad's skin was ruddy, a result of aging from stress and sun exposure. Now, "his skin is shinier and there are fewer wrinkles on his face, which indicates he had a resurfacing procedure, like a laser called Fraxel or a chemical peel. It also looks like he's had soft-tissue fillers, like Restylane or Juvéderm, injected into his wrinkles."
So is Brad's new look doctor-approved? Dr. Walden revealed: "He has more volume to his face, specifically his laugh lines and under-eye cheek area. And he has even more tone to his skin."
Perhaps his present partner Angelina Jolie would love Brad Pitt either way. Do you think Brad Pitt got some work done?
Comments
comments