Jennifer Aniston, who was previously spotted wearing her skimpy bikini in Miami, is reportedly back in the arms of former flame John Mayer, according to U.S. reports.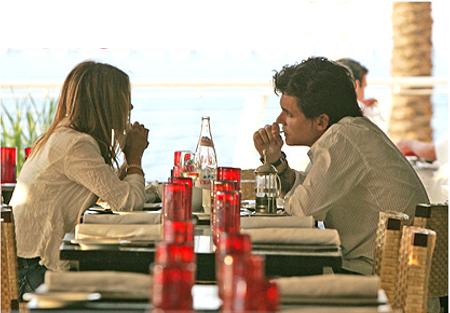 The actress has been single ever since her split from the singer in August, which is the latest in a long line of failed relationships.
However, another report suggested that Jennifer Aniston and John Mayer were spotted kissing in LA airport yesterday having enjoyed a romantic few days in Manhattan, which fueled rumors that the former couple had rekindle their romance.
An insider revealed: "They were very lovey-dovey.They kissed several times and hugged each other tightly. John gave her a long, lingering kiss."
They went their separate ways soon after but the insider told the magazine they looked more than just friends.
The insider continued: "Jennifer was in New York doing some shopping before she starts promotional work for her new movies, He's Just Not That Into You and Marley And Me."
The insider added: "John was relaxing after finishing his international tour, and they hooked up. After spending time together under the radar in New York, they flew to Los Angeles together and looked every bit the couple they once were."
Comments
comments