Kenny Chesney revealed that his new album "Lucky Old Sun", which drops Tuesday, October 14, was inspired by his split with Renée Zellweger in 2005.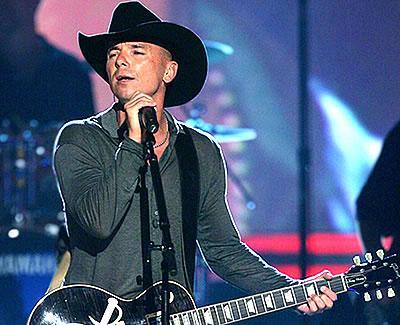 The singer said: "It's the root of the record, for sure. In 2006, I was probably as emotionally and mentally exhausted as I'd ever been. And that was due to a lot of things – having the foot on the gas pedal constantly, and my breakup with Renée Zellweger. I got in a plane and went down to the Virgin Islands. I was completely by myself. I didn't want to be around anybody. So the next thing you know, it's me and a pen and I sat down and wrote a lot of lines of this song, 'Nowhere to Go, Nowhere to Be.'"
Kenny Chesney, who has so far been reluctant to talk about the split, explained the reason why he has chosen to do so now.
He explained: "It's my life. I've been in a lot of states of mind in the last three years. In that way, it's a pretty honest record. I've let myself be more emotionally vulnerable in some of the lyrics. I think that was good therapy."
The 40-year-old musician, who doesn't keep in regular touch with Renée since their separation, is not sure how she will take the album, saying: "I have no idea. I don't know. It's unpredictable. I don't want to say this whole record is about her."
When asked if he still heartbroken? The singer replied "Not at all." He also admitted that he is dating again. He added: "I already wrote those songs. I'm on to something else."
Kenny Chesney married Renée in May 2005. The couple announced their intent to annul the marriage on September 15, 2005.
Here is the lyrics of the "Nowhere to Go, Nowhere to Be" song:
Like an empty bottle washed up by the waves,
Like an old scooter slippin' slowly to it's grave,
Like ghosts of old sailors caught smowhere in time,
Like a lone palm watch the world unwind…
Nowhere to go and nowhere to be,
"Trinidad Charlie" on a stool next to me,
Readin' his book bout the "have" and "have-nots,"
In between chapters we take another shot.
And one by one we slide from reality,
With nowhere to go, and no where to be…
There's jerk chicken grillin' on the grill.
Sure feels good for some time to be still.
Even if its only for a little while.
Sight of the sails in the wind makes me smile.
Days turn into night,
When you're stuck in still life.
And you got nowhere to go and nowhere to be,
"Trinidad Charlie" on a stool next to me,
Readin' his book bout the "have" and "have-nots,"
In between chapters we take another shot.
And one by one we slide from reality,
With nowhere to go, and no where to be…
Comments
comments