Jennifer Aniston's boy toy, John Mayer, was spotted kissing an unidentified striking blonde woman who was definitely not Jennifer Aniston.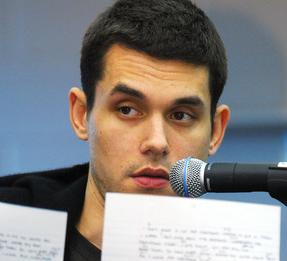 The "Gravity" singer, who could be living up to his reputation of being a consummate player who specializes in dating and dumping high profile Hollywood celebrities, was spotted on an intimate date with the blonde at Marix Tex Mex Restaurant in Santa Monica on January 28.
An insider revealed: "They were obviously on a date. He came in with her another time too and I've seen them out together."
The two have been discrete about their relationship but dropped their guard when saying goodbye.
The insider added: "He gave her a long kiss before they left. John has been here six times in the last two weeks but never with Jen."
John, 31, and Jennifer, 39, have not been seen together in public for over a month though the two are believed to have spent time together.
On January 20 night, their cars were spotted parked next to each other at the Beverly Hills hotel, a favorite hideout of the couple. The cars remained there even after John left for New York City around midnight.
There have been reports of the couple planning a romantic getaway for Jennifer's 40th birthday on February 11, through Valentine's Day.
However, their relationship has hit rough patches in the past. They dated from April 2008 to middle of August 2008 when John dumped her with a cryptic text message that read "That's it – the end."
The couple later made up starting with a dinner date at New York City's romantic Il Mulino on Saturday, October 11.
John Mayer dated Jennifer Love Hewitt briefly in 2002. He dated Jessica Simpson for about nine months, beginning in the middle of 2006.
Comments
comments