Newly-single Prince Harry ordered two meals at a Little Chef and scoffed both of them.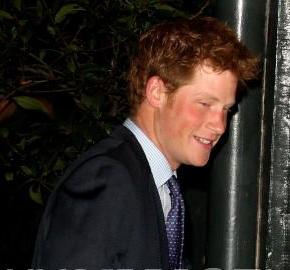 The young prince proved the split with Chelsy Davy has not hit his appetite by having a lasagne and a chicken and mushroom pie.
Prince Harry, 24, then polished off a pancake with sugar and lemon – and two Cokes. Manageress Kim Briggs said: "He must have been hungry. He asked for the main courses to come at the same time."
She said the diner's cook, Sue, was "shaking like a leaf" – but her food got the royal seal of approval. Kim said: "When Harry was asked if everything was satisfactory, he said, 'Absolutely amazing.'"
Prince Harry called at the diner in Sleaford, Lincs, after helicopter pilot training with the Army Air Corps. He was with two other trainees and two bodyguards. Kim added: "He seemed like a nice lad, very down to earth."
Meanwhile, the young royal survived a terrifying helicopter crash simulator dubbed the Dunker. He was strapped in the steel box before it was dropped 50ft into a tank of deep water.
The sinking "cockpit" was rolled from side to side in the water.
Prince Harry, whose clothing had been deliberately snagged on a piece of metal, had to cut himself free to swim clear.
He had just 60 seconds of air in a miniature tank clipped to the front of his jacket.
Would-be pilots face the Underwater Escape Training Unit at the start of the 18-month Army Air Corps flying course.
Some go to pieces and are booted off the course. But Harry breezed through and will soon start flying for real.
Comments
comments