Is Zac Efron now getting style tips from his girlfriend Vanessa Hudgens? The couple recently attended a Fredrick's of Hollywood lingerie show together that received lots of praise to make that appearance after Vanessa's racy scandal. But this new look by Zac really takes guts.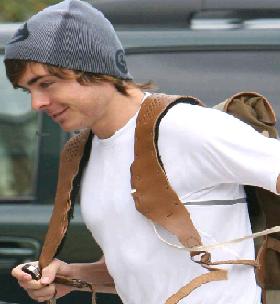 Zac Efron was recently snapped displaying some buff biceps for the cameras and after a workout at LA Fitness the young star of High School Musical and Hairspray emerged sporting a topknot ponytail. It may be time for Vanessa Hudgens to step in.
Now, Zac Efron, who was wearing a new favorite gray beanie, was spotted running without his patented look. The "High School Musical" actor was previously spotted wearing shorts and a yellow t-shirt with the face of Kobe Bryant on it.
While texting on his iPhone with one hand, Zac carried a drink and his trusty Nike backpack in the other. He had time for the camera and threw up a peace sign and a wink to a waiting photographer.
Comments
comments