Hayden Panettiere made an impressive style statement at the Whaleman Foundation Benefit to save the whales at Eva Longoria's Hollywood restaurant, Beso, on August 10, 2008.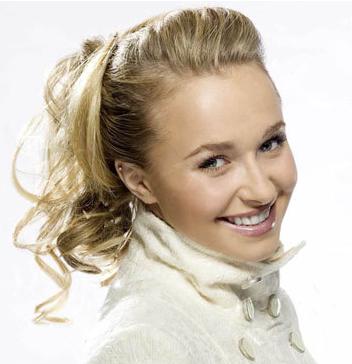 The 18-year-old "Heroes" star turned heads looking stylish in a strapless Herve Leger banded dress with a sweetheart neck line and black, white and orange curvy bands on the fitted bodice.
The stunning actress accessorized with graduated diamond six-stone drop earrings, nude pumps and a silver clutch. Her blond hair was swept up and styled in an updo.
On May 20, 2008, Hayden ran an auction on eBay in support of the Save the Whales Again! Campaign. The winning bidder and five friends were Panettiere's guests at the celebrity fundraiser on August 10 where they rubbed shoulders with Hollywood elite, and were entertained by special musical guests.
The winner, along with the five friends and Panettiere, will next set sail on a private whale-watching expedition through California's Channel Islands. Founder of the Whaleman Foundation and world-renowned marine conservationist, Jeff Pantukhoff, will personally lead the expedition onboard Condor Cruise's 75-foot catamaran, the Condor Express.
The Whaleman foundation is dedicated to oceanic research, preserving and protecting dolphins, whales and their ocean habitat.
Other attendees of the evening included Eva Longoria and husband Tony Parker, Dania Ramirez, Leonor Varela, Jansen Panettiere, Jack Coleman with famliy and Milo Ventimiglia.
Comments
comments