Hayden Panettiere was spotted shopping for lingerie in Beverly Hills.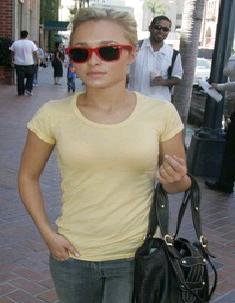 The "Heroes" star, who plays a cheerleader on the show, was wearing outdated plastic red shades, the yellow tee shirt and the black flip flops don't read Hollywood diva as much as it does colorblind girl working at the local Seven-Eleven. While the makeup suits her face, it's really the last thing people would notice walking down the streets in Beverly Hills.
Coco Chanel once revealed, "I don't understand how a woman can leave the house without fixing her self up a little- if only out of politeness."
While she's out buying underwear, a few actual outfits wouldn't hurt either.
Comments
comments