After Heath Ledger's death, another rumor has sparked after Naomi Campbell's former assistant has claimed she indulged in cocaine binges with the actor and supermodel.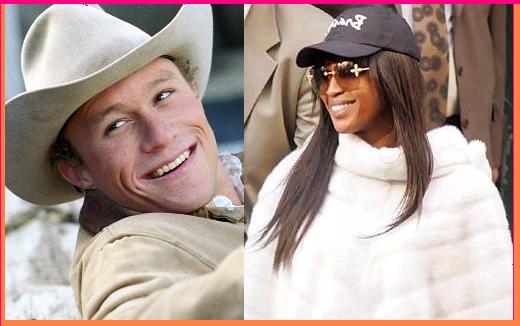 Rebecca White, who worked for Naomi between 2001 and 2004, revealed, "When I was working for Naomi I saw Heath do drugs a few times. He was new on the scene but everybody was hailing him as the new It Boy actor. We had been hanging in Naomi's bungalow at the Bel Air Hotel. Heath asked Naomi if she had any cocaine – I used to carry it around for her – and I remember giving him the packet and he went off, back and forth throughout the night."
The former assistant admitted to later buying cocaine for the actor, saying, "Each time I got an eight ball – four-and-a-half grams. The second time he came up all three of us spent a night doing coke in her bungalow. It was quite decadent. We were there for five or six hours. We all went to Paris for another fashion party a couple of weeks later. We went to one of parties at this club. There was coke and a big bag of ecstasy pills. Naomi gave Heath a handful of these little blue pills and I remember him putting them all in his mouth at once and swigging a bottle of Cristal Champagne."
She added, "Heath wanted to be a family man. He adored his daughter. But his partying was a problem. Michelle felt very uncomfortable with it and dropped him out of her life."
Another source revealed late actor took early morning strolls around Washington Square Park in Greenwich Village and taking sleeping tablets to help his insomnia.
Tony Rivera revealed, "[Heath] would walk early in the morning – around 6:30am or 7am because, he said, he always had trouble sleeping. That's why he'd come out so early in the morning… He'd say, 'I'm very tired' and he looked it."
The director of Heath's 2002 film "The Four Feathers" has said he may have participated in Heath's last conversation, saying, "Heath said he could not see me that night but really wanted to meet me the next day. He made me promise that I would call him in the morning and wake him up. I tried. Little did I know that his soul had already left his body. In Heath, I have lost a younger brother. He was gentle, and caring."
Meanwhile, the funeral arrangements for the actor have been completed, according to the general manager of the Frank E. Campbell funeral home in Manhattan.
Heath Ledger's relatives are expected to arrive in New York on Friday, USA Today reports citing funeral home spokesman George Amado. The spokesman said, "The family doesn't want us to give out any information."
Comments
comments