The scandalous video allegedly showing a doped Heath Ledger ranting about his drug habits was filmed as part of a controversial sting by paparazzi that ended up benefiting from the actor's untimely death, it has been revealed.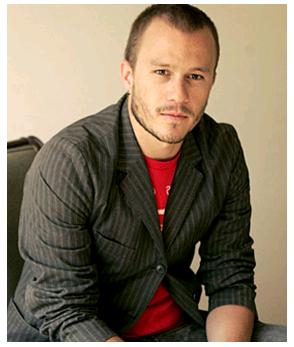 According to reports, Heath Ledger had been asked to come to a hotel room by photographers and producers. The actor was unaware that they were recording his every move.
In the video, Heath Ledger can be seen talking about drugs while other attendees snort cocaine off the table they are sitting at.
It has been revealed however that Heath Ledger had been lured into the hotel room by a British-owned paparazzi photo agency in a bid to cash in on the actor's confessions.
In the released excerpts, Heath Ledger is heard saying that he used to smoke "five joints a day for twenty years", and that his girlfriend (Michelle Williams) would be angry at him for doing so.
The actor revealed at that time, "I'm going to get serious sh*t from my girlfriend. We had a baby three months ago… Matilda, Matilda Rose… I shouldn't be here at all."
The pair allegedly offered the drugs to the actor, with the photographer stepping outside onto the balcony where he set up a hidden video camera and began recording through the window as the reporter asked the actor leading questions about his drug habits.
However the plan later went pear shaped, with lawyers for the photo agency reportedly advising that Heath Ledger would have a large case to sue for damages, and entrapment.
But the issue of entrapment and a potential lawsuit was no longer a concern following Heath Ledger's death, with the agency then able to sell the footage to the highest bidder.
US television show Entertainment Tonight is understood to have shelled out 225,000 Australian dollars for exclusive rights to be first in the world to screen the tape.
Splash News co-owner Garry Morgan admitted that the company had been the distributor for the video, which was broadcast on US and Australian television two days ago, but refused to confirm or deny whether the agency's employees where involved in obtaining the controversial footage of Ledger.
Garry Morgan was quoted from saying, "We don't ever talk about how we obtain stories or videos and pictures. We don't ever reveal sources. I don't think it's any secret that we had the video."