Potential renters are wary of moving into Heath Ledger's home.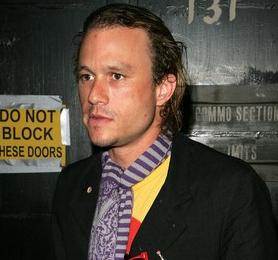 According to a report, no one wants to live in the pricey Soho apartment in which Heath Ledger died. The three-bedroom, 4,400-square-foot Manhattan apartment, where the Aussie actor died of an accidental drug overdose, has been taken off the market. It's been on the market since July — after Heath died there in January — and nobody has been willing to spring for the $26,000-a-month rent.
The paper claims that the reason the place is vacant most likely is because of "its spooky provenance" as well as the slowed rental market.
The report indicated:
The rental listing of the SoHo apartment where Heath Ledger accidentally overdosed has been pulled without a taker willing to cough up $26,000 per month. The Post's Braden Keil reports the three-bedroom loft at 419 Broome St., which was officially relisted in late July after Ledger died there last January, couldn't attract a tenant – most likely because of its spooky provenance and a cooling high-end rental market. A Corcoran Group source would only say the 4,400-square-foot pad is "temporarily off the market."
Heath moved into the apartment in September 2007 when he moved out of the Brooklyn brownstone he shared with Michelle Williams and their daughter Matilda.
Comments
comments