On Friday, Hi Fi Recordings and Wilshire Records announced the release of "On With The Show," an album of tracks recorded by "American Idol" runner-up Adam Lambert before his rise to fame – and an album Adam was quick to separate himself from.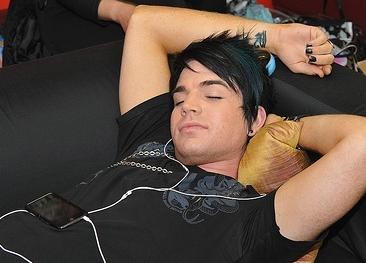 "Back in 2005 when I was a struggling artist, I was hired as a studio singer to lend my vocals to tracks written by someone else," Adam said in a statement to Access on Friday. "The work I did back then in no way reflects the music I am currently in the studio working on."
But while Adam wants to focus on the fall release of his debut album through 19 Recordings/RCA, the CEO of Hi Fi Recordings told Billboard later on Friday that "On With The Show" wasn't intended to undercut the star's career.
"I do not want to hurt this guy," John Hecker told the trade mag. "I want this guy to be as huge as he should be, and I think this music is only going to help."
While Adam distanced himself from the material in his statement, Hecker said that the "Idol" rocker had been very involved in its creation.
"This is all original material — as a matter of fact, Adam wrote a lot of it," Hecker claimed. "The music's amazing."
Hecker alleged that Adam had checked in on the recordings as recently as May 2009, before the "Idol" finale.
"He was blown away by the material," Hecker added.
The first single from the compilation, "Want," was also released on Friday, and Hecker noted that he did not forewarn 19 Recordings about its release.
"I bet they know now," he said.
Comments
comments