Playboy babe Holly Madison looked stunning in pink as she hosted a charity ten-pin bowling night wearing pink blouse and short skirt.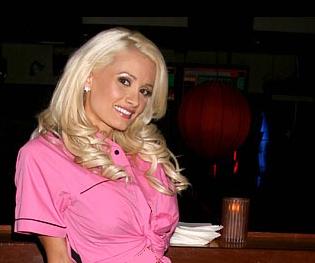 The busty blonde was at the "Bowling For Boobies" event in Hollywood, which raises money for local women suffering from breast cancer. The bowling night aims to raise more than £20,000 for the cause.
Perhaps the Playboy beauty has no time for dating since her recent split from Playboy boss Hugh Hefner and her sporty night out was only one of the reasons why.
Holly Madison and Hugh Hefner were together for seven years until they parted recently. As Hugh's number one girlfriend, she had the dubious privilege of sharing a bedroom with the Playboy boss while other Playboy girls Bridget Marquardt and Kendra Wilkinson slept elsewhere in the mansion.
It was previously rumored that 82-year-old Hugh's refusal to marry Holly Madison, 28, and have kids contributed to their break-up.
Holly Madison revealed: "Someday in the future I want to have kids, but I am way too busy right now I have a lot of things to do next year and none of them involve being a fat pregnant lady."
The blonde beauty confirmed that there are no hard feelings between her and Hugh, who said she was the love of his life, saying: "Absolutely. I think it's very sweet of him to say that and I wish him well in his dating, and I hope he just takes time to get to know girls and makes right choices."
She even admits to working with Hugh Hef's new girlfriends, 19-year-old Playboy twins Kristina and Karissa Shannon. Holly Madison confirms that his type is "blonde and not too challenging".
Holly Madison seems more demanding as she described her ideal guy: "I like dark hair, I just like guys who are fun and nice. I like all the good stuff, guys who are hot, fun, nice and smart."
Comments
comments