Sharon Osbourne has verbally attacked Hollywood actress Nicole Kidman after saying that she has a forehead "like a flat screen TV".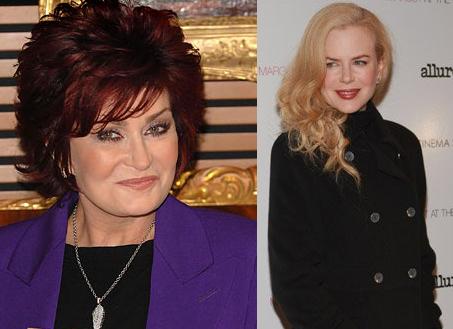 The frank "America's Got Talent" judge launched a tirade against the "Australia" star while hitting out at celebrities who refuse to admit to having plastic surgery. She branded them "lying b***hes".
Sharon Osbourne, who admits she has spent over £300,000 on cosmetic procedures, ranted on U.S. talk show "Chelsea Lately."
She declared: "Oh my god! Those liars, I hate them, those b***hes. They go, 'Oh no, I wouldn't do anything.' Meanwhile, their eyebrows are here."
She continued: "Nicole Kidman's forehead looks like a f***ing flat screen TV – how big is that forehead? "If something bothers you, it doesn't make you happy, then change it."
She added: "What's the deal? I don't get what the mystique is, why people lie about it?"
Although experts have previously described Nicole, 40, as an "enthusiastic" user of Botox, which helps to smooth skin and reduce wrinkles, the actress has always denied having any procedures.
The 40-year-old stunning actress recently revealed: "To be honest, I am completely natural. I have nothing in my face or anything. I wear sunscreen and I don't smoke. I take care of myself and I'm very proud to say that."
Comments
comments