2008 is nearly around the corner and the Access Hollywood started their countdown of Hollywood's top female stars of 2007.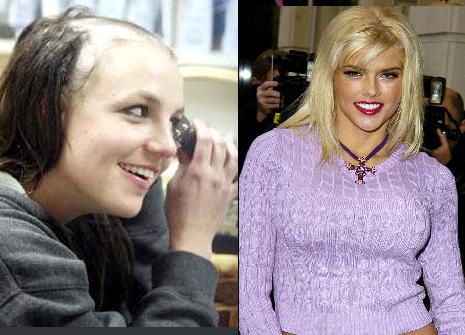 Britney Spears topped the list of top female stars since she was the most talked about woman of 2007. The news started when she shaved her head and ended by losing primary physical custody of her kids.
Following the late blonde bombshell Anna Nicole with untimely death and subsequent baby daddy drama earned her a number 2 spot since she got 87 stories.
Lindsay Lohan landed the third place with 68 stories since she ran into trouble with the law this year and eventually checked into rehab more than once. Paris Hilton followed her as the socialite bagged the fourth spot with 57 stories since a fixture on party scene and stint in jail.
Angelina Jolie got the fifth place with 48 stories while Rosie O'Donnell landed the sixth spot with 40 stories since early departure from "The View," after a spat with co-host Elisabeth Hasselbeck.
Victoria Beckham made it to the seventh spot as she inspired 35 stories from moving to the US and Spice Girls reunion.
It is a tie between Nicole Richie and Jennifer Lopez as they both bagged the eight spot with 26 stories attributed to them. And Katie Holmes finished the list with 25 stories.
Comments
comments