Princess Beatrice and Princess Eugenie led the way in the fashion stakes in jaunty hats as they mingled with the crowds at Sandringham while the rest of the Royal Family braved pouring rain to celebrate Christmas in traditional style.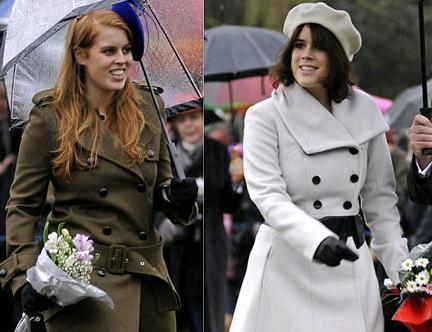 The Queen arrived by car with her granddaughters Princess Beatrice, who is sporting a purple fascinator and matching coat, and Princess Eugenie for the 11am service at St Mary Magdalene Church.
The onlookers were rewarded by the sight of the Queen handing her brolly to Princess Beatrice, Prince Edward playing the proud father, and a rare public display of affection between Princess Anne and her husband Admiral Timothy Laurence.
Members of the party who arrived on foot – included the Duke of Edinburgh, the Prince of Wales and the Duchess of Cornwall, who wore a striking purple coat.
Princes William and Harry were absent, however, as both were on duty with their Army regiment, the Blues and Royals. The Countess of Wessex wisely gave the service a miss, remaining indoors with her eight-day-old son James.
Prince Edward, was, however, among the royal party and told the crowd that his wife was recovering well after her elective caesarean section. Asked if mother and baby were well, he revealed, "Absolutely, thank you."
According to royal insiders, the new baby "went down a storm" during the family celebrations in Norfolk yesterday.
Despite the weather, more than 600 royalists lined the approach to the church to watch the party arrive.
After the 45-minute service, the Queen collected bouquets from around 50 children who had lined up outside church.
After lunch, at which the Royal Family were joined by Anne's daughter Zara Phillips, they sat around the television to watch the Queen's Speech. Prince William arrived later in the afternoon.
Comments
comments