Hugh Grant is shaping up to be a serial groin attacker after taking aim in between the legs of a paparazzi photographer in another of his street kicking outbursts.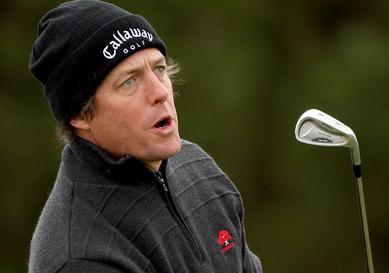 Grant — who is well-known for lashing out at the paparazzi and the press — nailed the TMZ cameraman in the groin outside a New York club.
Video posted on the TMZ gossip website shows the 48-year-old Notting Hill star leaving renowned celebrity hangout, the Waverly Inn.
In two videos, Grant appeared to engage in some friendly banter with a group of photographers but is then heard telling them to "back off".
The cameraman suggested a good place for Grant to catch a cab when the actor unleashed his fiery temper and fired his boot at the man's groin.
"That wasn't cool, what the **** is your problem?" the cameraman shouted.
But Grant just walked away.
In 2007 Grant was allegedly photographed kicking and kneeing photographer Ian Whittaker, 43, outside the actor's London home.
"He gave me a couple of kicks in the legs and I think he kneed me," Whittaker was quoted as saying at the time. The actor who has starred in Four Weddings and a Funeral, Bridget Jones's Diary and About a Boy was detained by police on suspicion of assault and throwing a can of baked beans.
But he was released on bail and he was not charged.
That same year Grant also accepted undisclosed damages from a British newspaper publisher over a string of false claims surrounding his relationships with exes Jemima Khan and Elizabeth Hurley.
Comments
comments