"Bikini Girl" Katrina Darrell is not going to be your next "American Idol," – but she could be your next Playboy centerfold.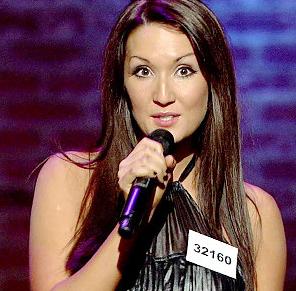 The infamous "Idol" contestant caused a sensation when she showed up for her first audition clad in a tiny, orange bikini and then planted a big kiss on host Ryan Seacrest, but she got the boot Wednesday in the Hollywood auditions.
But don't think you've seen the last of her – according to Darrell, Playboy's execs have come knocking with opportunities.
She revealed in an interview: "[I've had] a lot of different offers, like Vegas promotion offers. Of course Playboy has called."
But it sounds like Darrell is starting to think twice about marketing herself as a sex object as she said: "I wouldn't say no, but at the same time I don't want to stunt my career by jumping into that too soon and be labeled once again, as 'just a body.' But I don't knock it."
Darrell made waves in her first audition not only for her barely there ensemble, but for the near catfight that broke out with new judge Kara DioGuardi.
The two had a singing showdown with DioGuardi telling her she didn't have the chops to sing Mariah Carey and Darrell firing back that DioGuardi was no better. Meow!
Darrell was ousted Wednesday night after a failed group audition, followed by scenes that seemed to indicate relations among her fellow "Idol" hopefuls had gone decidedly sour.
The group mates accused Darrell of failing to rehearse and thus sabotaging their chances for success.
But Darrell says, that's not exactly how things went down, saying: "I did rehearse a lot more than they showed. I had auditioned all day, then at midnight they gave me a new song to learn and then I had to be up and ready to perform at 7, so I stayed up 'til 4:30 and then I started getting delirious."
She continued: "Then the girls were being catty, and it was impossible to work with them — one's taking off and having cigarette breaks, the other one is a minor, has her parent looking over me the whole time and then the other one said, ' I'm the best singer and I should sing the beginning,' and I'm like, 'I'm so tired, I can't do this.' You know, I'm not in a girl group, I'm a solo artist."
And as for the possible Playboy offer – if it comes can we expect to see Darrell posed sans her signature bikini?
She added: "I don't know. I would have to think about that. My dad would probably kill me."
Comments
comments