Angelina Jolie shocked onlookers with her startlingly thin appearance on a day out in New York. Her twig-like legs looked fragile enough to snap in two, and while she once boasted voluptuous curves, her stomach was instead a hollow.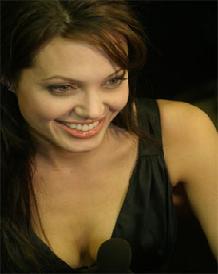 Her arms and forehead showed prominent bulging veins indicative of extreme weight loss and over-exercise.
The actress is said to weigh less than eight stone with friends and family becoming increasingly concerned about her drastic thinning.
The 32-year-old actress revealed, "I have always been lean and this year I have lost my mother and gone through a lot. I have four children and I finished breastfeeding. It has been hard to get my nutrition back on track."
She added, "I have never been a fitness fanatic. I am lucky I can eat pretty much what I want."
The actress was recently spotted showing the effects of her fitness regime as she left her home in a black suit which hung off her gaunt frame while her Christian Louboutin stilettos only served to emphasize her wiry legs.
Later, as she took her brood of four to a play center, her cropped top and loose jogging bottoms drew attention to her disappearing midriff.
An onlooker revealed, "I know she has lost a lot of weight recently but even so, she was shockingly thin. Her legs looked like sticks from behind."
Comments
comments