The bizarre story of Chris Brown and Rihanna gets even stranger with every day.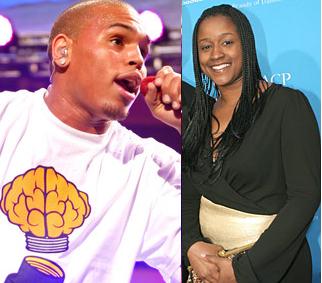 It had long been reported that the argument that led to Chris' alleged Feb. 8 assault on Rihanna had started when he received a text message from another woman. And as TMZ revealed on Tuesday, that text is believed to have come from Chris' 39-year-old manager, Tina Davis, who had been rumored to have had more-than-professional relations with her client when he was only 16.
Now, in the latest development, Tina's father has come out to defend his daughter against allegations that she has carnal knowledge of the award-winning singer.
"They were saying that before," George Davis revealed when confronted about the report. "Those are old rumors."
One hitch in his story is that, while Tina's people came out strong in her defense following those early reports, stating that her relationship with Chris was "strictly professional," there has yet to be any denial issued in this instance.
So for now it's just a wait-and-see situation. If Chris' case ultimately go to trial, it is likely that the full content of the text message — and the identity of the sender — will all become part of the public record.
Comments
comments