Since announcing her surprise pregnancy to OK! last December, Jamie Lynn Spears has become one of the center of attention to crazy and unfounded headlines.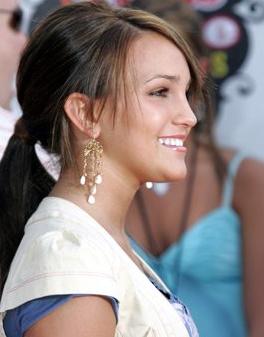 A wild report suggested that the 17-year-old actress is pregnant again. U.S. tabloid is claiming that the teen star is pregnant with a second child. This new pregnancy bombshell comes amid rumors that Jamie Lynn has separated from fiance and baby-daddy Casey Aldridge.
A source claimed:"Jamie Lynn is about eight weeks pregnant, and she and her mom Lynne are hysterical. Neither of them knows what to do, but for now they're trying to keep the news from getting out."
The source added: "Jamie Lynn believed she couldn't get pregnant while she was breast-feeding. She'd expected to have her period by early September, but a home pregnancy test came back positive and Jamie Lynn cried her eyes out. Lynne was livid when she found out. Everyone has reminded Jamie Lynn how much trouble she had adjusting to motherhood with Maddie, and pointed out that having a second baby now would only be a recipe for disaster."
Well, if that's true, it's certainly news to Jamie Lynn – her representative confirms exclusively to OK! that those rumors are false.
Her representative revealed: "She is not pregnant."
In an interview, Britney Spears' little sister was asked if she and Casey were planning to expand their brood anytime soon. The teen star replied: "You're way ahead of yourself on that one!"
On her relationship with Casey Aldridge, she added: "We are really happy with where we are right now. There is no rush for anything."
Comments
comments