Jennifer Aniston, who previously spent romantic spa escape with John Mayer, is reported to fume with Pink because she believes she called her "stupid".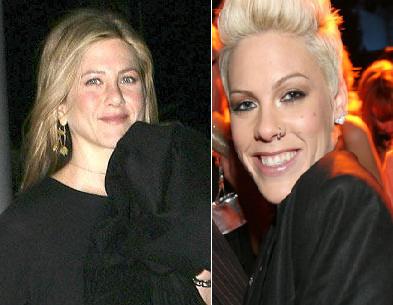 The "Break-up" actress is reportedly furious with Pink after the singer made a veiled attack against Jennifer during a conversation with the actress' boyfriend John Mayer.
Pink, 29, explained: "I got into an argument with him. He said something along the lines of, 'I only s**g really stupid women', and I said, 'I guess they would have to be.'
The singer added: "I don't get him and Jennifer at all."
Jennifer Aniston is believed to be so furious with the 'So What' singer's comments she has ordered her friends not to speak to her.
A source revealed: "She's livid that Pink would suggest she is stupid like that in public. But Pink was actually defending Jennifer – John infuriated her by talking about women like that.
The source added: "Jennifer has already made it quite clear that Pink is to be blacklisted among her circle."
Jennifer, 39, and John, 31, reconciled earlier this month. They originally split up in September after dating for around three months.
Comments
comments