Angelina Jolie an inspiration for Jennifer Aniston? Life & Style Weekly makes the connection this week wit the latest Jen flick noting, "Car chases, boat fights, bloody brawls. Nope, these aren't stunts from an Angelina Jolie action flick but from Jennifer Aniston's upcoming film, Bounty Hunter."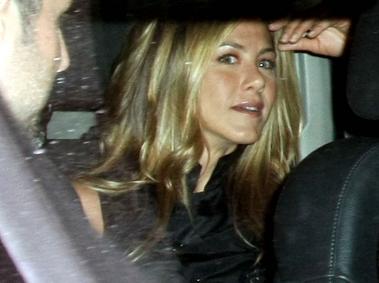 Is it action Jen? Will she show off that hard body on the big screen? The magazine adds: "What's more, the movie, which co-stars 300 hottie Gerard Butler and starts filming in NYC in late June, has uncanny similarities to Mr. & Mrs. Smith — during which Angelina infamously met Jen's then-husband, Brad Pitt. "Jen and Gerard play a divorced couple named Cass and Milo," a Jen insider explained to the magazine.
"They're together in almost every scene, bantering and belittling each other as the elaborate action caper unfolds." The item claims that Jen realizes it sounds familiar. "She knows people are going to say she's copying Angelina, and she doesn't care," says the insider.
As far as Jen is concerned, she's a much better actress than Angelina — and she's going to prove it." And perhaps because Jen, 40, knows all too well that good chemistry can make or break a flick like this, the insider says she was careful when choosing her co-star.
"When the script came her way, she said she would do it only if she could find the right leading man," says the insider. "She found that guy in Gerard."
Comments
comments