Angelina Jolie has reportedly added a new tattoo to her bodily collection, it has emerged.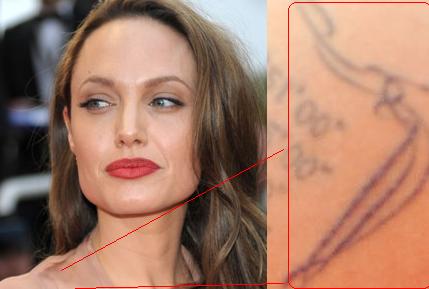 According to a report, while Jolie walked down the red carpet in Cannes with partner Brad Pitt, photographers documented glimpses of what appeared to be an unrecognizable ink mark.
The alleged new tattoo was captured by lenses on her left arm above the longitudes and latitudes of the birthplaces of each of her children.
The existing six lines replaced an almost-gone tattoo tribute to former husband Billy Bob Thornton.
Meanwhile, Angelina Jolie dreams of living in an "insulated world". She hates the attention she attracts when she appears in public, so prefers to spend time at home.
A source said: "She's not a big fan of going out in public with the kids and encouraging the stares and whispers of the public. She does it all the time, sure. But she'd rather live in a more private, insulated world."
Angelina's favorite getaway is the private estate in France she and Brad bought last year, which boasts 35 bedrooms and acres of outdoor space.
Brad is equally as happy spending time out of the limelight, although he is determined to give his children a normal upbringing and not hide them away.
The source explained: "Brad has been thriving for the last couple of months. Just getting up in the morning at the crack of dawn and making a big breakfast – being the house husband, taking care of the kids. It's been a few months of heaven for him."
Comments
comments