Kevin Jonas, who was a member of the Jonas Brothers, is apparently engaged to longtime girlfriend Danielle Deleasa, according to a report.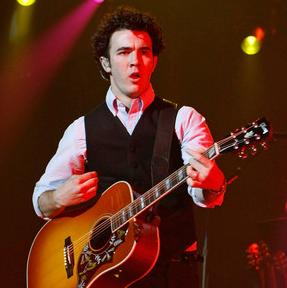 Rumors claimed that Kevin Jonas purchased an engagement ring for Danielle Deleasa. Kevin was seen shopping at high end jewelry store David Yurman with his brothers and mother Denise on Saturday night.
To add fuel to the fire Denise has revealed that she would like to be present to pick out the engagement rings for her son's future wives.
Kevin has also mentioned that he would like to get married at a young age. David Yurman is home of some of the most beautiful engagement rings in the US.
Meanwhile, one thing is certain, Kevin Jonas felt his "head moves too fast" when he is with a girl he likes, saying: "I have to calm myself down because I get excited. My head moves too fat and my words don't come out as fast as my brain is working. I'll even miss words when I am emailing or texting and it makes no sense!"
The 21-year-old singer never feels pressurized to be "macho" around women he likes, adding: "Sometimes there is pressure to be tough, but I think it has a lot to do with jealousy – like, when other guys come around and stuff like that. For me, I'm not a jealous guy. I'm more of a protective guy."
Comments
comments