Madonna, who hit the headlines with her recent divorce and romantically linked to Alex Rodriguez, is set to give Guy Ritchie a £32 million divorce payout, according to reports.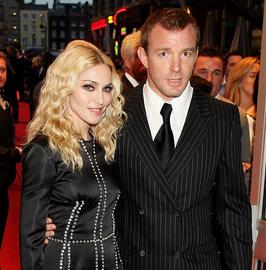 The 50-year-old singer will reportedly give Guy Ritchie a cash sum of £12 million as well as the couple's 1,200 acre Ashcombe House country estate in Wiltshire worth £20 million. Her husband will also keep his £3 million Punchbowl pub.
The pop icon divorced her film director husband in a matter of minutes in a "quickie divorce" at the Principal Registry of the Family Division in High Holborn, London last month.
In a statement released by the court, Madonna petitioned for divorce on the grounds of 40-year-old Ritchie's "unreasonable behavior", which she said was "continuing" but not affecting her health.
Madonna is set to keep her £300 million fortune after Ritchie, thought to worth £30 million thanks to movies such as Snatch and RocknRolla, said he did not want any of her money.
Legally he could have been entitled to claim up to half the wealth earned during their seven-and-a-half year marriage, thought to be £120 million.
It is thought the £12 million offer came after the singer refused to split their marital home in Marylebone, London.
A source revealed: "He is getting one lump sum imminently. Guy wanted to stay in their London home but Madonna refused to split it in two, and eventually gave him £12 million as compensation. She decided early on that he should get Ashcombe. Guy's ducked out of fighting over her fortune, even though he could be entitled to a big chunk."
A friend of Madonna revealed: "She is fed-up at reports that Guy is walking away with no money – she has sorted his finances for life."
The couple will share custody of their sons, Rocco, eight, and three-year-old adopted David.
Comments
comments